Britains damaged coastlines!
Posted: 28/04/2015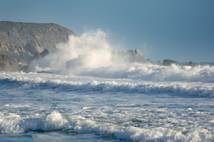 A report was released last week by the National Trust which stated that an easier and more maintainable strategy should be devised and is "urgently needed" in order to assist the protection of coastal areas in the forthcoming future. One of the UK's well known coastal owners, The Trust has said that a number of the sites in their possession have been severely damaged by the winter storms and ever rising high waters.
In East Sussex there are a chain of seven chalk cliffs also known as The Seven Sisters, one of which is called the Birling Gap. This had been one of the main cliffs to be severely damaged during the winter storms that engulfed most areas in the UK. Birling Gap had experienced around seven years' worth of erosion last winter consequently, leaving a shop and café balancing just metres from the enormous sheer cliff drop down to the sea front.
As well as Birling Gap, The Golden Sands Beach located in Rhossili on Gower which has been deemed the UK's best has unfortunately had large areas of it washed away due to the high rising tides and high speed winds.
The charity has had to accelerate their decisions upon how they can adapt coastal areas so that they will be able to cope with any unpredictable weather that may occur in the foreseeable future. Officials are adamant that the work scheduled to be taking place in or around these areas should start almost immediately. Natural environment director, Simon Pryor has also made a comment towards the Government stating that they should do everything in their available power in order to make sure that adequate strategies are in place with regards to how the coast can be modified in order to boost protection in the future.
Pryor also stated the following;
"There is a natural inclination to want to defend the coastline with concrete but our coastline is dynamic and the forces of nature that have formed it are part of its beauty. Hard defences will always have their place, but the winter storms that hit many coastal places hard have provided a valuable reminder that they have a limited life. Where we can we need to give natural processes that have formed our coast the space to work, and create areas where the coastline can realign as the sea levels rise. Natural habitats such as sand-dunes and salt marshes can act as buffer zones that absorb the impact of storms and very high tides."
According to Dr Pryor a further report had been distributed last month courtesy of the Intergovernmental Panel on Climate Change. This report addressed the fact that extensive care should be taken with regards to costal management and plans should be drawn up in order to devise a lifelong management scheme so that all coastal areas are kept under constant maintenance.
The organisation, The Trust caters for around 742 miles worth of coastal lines across England, Northern Ireland and Wales and they plan to have alternating measures put in place for certain areas. These plans will first be distributed to the 70 most affected areas that are most exposed to further flooding and possible erosion by the year 2020. During the 21st century a large percentage of land obtained by the National Trust may be under sever threat of erosion, a total of 60% with a possible 15% of these sites in line to potentially loose in the region of 100 metres of land in the process providing further erosion and stormy weather were to happen.
A large percentage of the coastline around the Wirral Peninsular is protected by a large concrete barrier known as the promenade. This was damaged during the previous winter storms however, the barrier against the Irish Sea withstood the rising tides and high winds and prevented many towns from being flooded. Do you believe this could be the best way to protect many other areas in Britain where applicable?
Nicole Cran, Pali Ltd
(0) Comments
Latest News
Categories
Subscribe
Subscribe to receive a weekly update of our blog posts