British summer expected to last until November!
Posted: 11/09/2014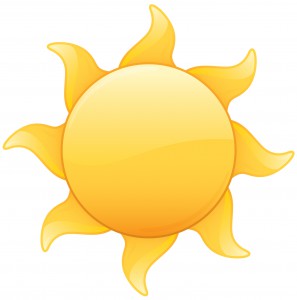 Weather forecasts display that Britain may be in for more warm weather which is rumoured to last up until November! Despite the recent downpours this is still expected to happen. Various areas in the UK are anticipated to swelter following a waft of high pressure that is expected to manoeuvre up from the Atlantic.
Temperatures are estimated to clutch around the 25DC mark in Southern areas by Friday with the North following suit, also estimated to get to 20C. Forecasters explain that the current levels of mercury could steadily increase beyond these levels and persevere until the end of October, meaning the UK could be in for a sizzling few weeks ahead.
The Met Office possess a three month likelihood weather planner which states that October and September are likely to display high temperatures which may be above the average. This forward thinking method is used to guide local authorities and assist them with preparing strategies to deal with any weather conditions that may arise for example, stocking salt ahead of icy winter weather.
Augusts weather fairly dull and miserable with its equal share of downpours but despite this, temperatures recorded during summer show a slight rise above average with the outlook for autumn proving much more promising. Providing the warm weather spell holds out until October the UK could experience what is known as an Indian summer.
The plan provided by the Met Office states;
"For August-September-October as a whole above-average UK-mean temperatures are much more likely than below-average. Overall, the probability that the UK mean temperature for August-September-October will fall into the warmest of our five categories is around 30 per cent and the probability of falling into the coldest of our five categories is five per cent".
Officials say that during the coming week, warm weather is expected to continue to sweep many areas of the UK however, instead of it being back to back delightful sunshine; Britain is expected to feel exceptionally humid and to close for comfort.
Krista Mitchell, a Meteorologist for the Met Office stated that the weather is going to progressively get warmer throughout the week. Mitchell said;
"The high pressure is going to bring warmer air in from the Atlantic, it is going to be quiet pleasant across the country but the warmest conditions will be in the South. This is above average for the time of year although it is going to feel quite muggy. There is some uncertainty as to whether the high pressure will break down after the weekend".
Are you enjoying this delightful September Sunshine?
(0) Comments
Latest News
Categories
Subscribe
Subscribe to receive a weekly update of our blog posts