Could Britain be in for a warm treat this summer?
Posted: 08/07/2014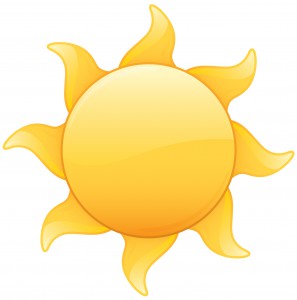 Britain has experienced many changes in weather over the past few months and approaching temperatures are said to soar above the average temperatures for this time of year. However, this sort of weather often throws us the odd thunderstorm to contend with and these may cause flooding if security measures aren't put in place before they begin.
In the coming week, Britain is expected to experience some fiery hot sunshine with temperatures anticipated to stay well above average and this will be a first for many years. Weather forecasters state that temperatures will rise to 81F leading into the weekend followed by plenty more sunshine and blue skies for the rest of the week.
Never the less, positives do not come without their fair share of negatives for example, weather officials have warned that the country may be at risk of mass downpours from the East coast expected to happen Wednesday and Thursday of this week. The Met Office also added to this warning stating that the amount of intense downpours could result in surface water flooding.
Laura Young, a spokeswoman for the Met Office stated that 1.2 inches of rain, which can also be equivalent to 1 months' worth could indeed fall within a matter of two hours. She also proceeded to say;
"There is some uncertainty at the moment but there is a weather warning for rain along the East coast on Tuesday. These downpours could be quite heavy and intense leading to some surface flooding, so it is something to keep an eye on. However it is still going to be warm and getting warmer in most places all week with 27C likely by Friday".
A statement issued by the Met Office distributed the following warning;
"Slow-moving heavy showers, with possible thunder, are likely to develop from late morning on Tuesday across some Eastern parts of England and Scotland. The public should be aware of possible surface water flooding although, as is often the case in such situations, many places will escape the heaviest downpours".
Britain is not used to this extremely hot weather and as the country continues to perspire in the higher than average sweltering heat, many bookmakers have been dishing the odds on July being the hottest month of this year to date.
Nicole Cran, Pali Ltd
(0) Comments
Latest News
Categories
Subscribe
Subscribe to receive a weekly update of our blog posts