Could you see yourself living in a home made from straw?
Posted: 11/02/2015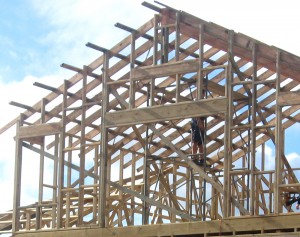 Thanks to the University of Bath and an architectural firm, ModCell for coming up with an ambitious project, environmentally friendly enthusiasts may now have the chance to live their dream in the greenest way to date. They can do this simply by snapping up one of the freshly built straw houses which are to be located in Bristol.
If people intend to pursue the life of green living they are promised 90% cheaper fuel bills in comparison to those acquired by someone who lives in a an average modern day home built from brick. Not only will potential buyers gain the possibility of cheaper bills but they will also experience a smaller overall cost price for the home in comparison to the average cost of a home in Bristol, currently standing at a figure of £216,500.
In total, for now, seven new homes have been constructed and have been located on a street surrounded by the traditionally brick built homes in shire Hampton, Bristol. Even though they are not the first homes to be built using materials such as straw bales they are in fact the very first few to go on sale in an open market.
Each of the seven homes are clad with a brick outer layer so that they fit in with the already present homes in the street however, their pre-fabricated walls are supported with timber frames and complete with straw bales and last but not least, they are encased in wooden boards.
Homeowners in the award winning straw-built co-housing community which is up and running in Bramley, Leeds have enjoyed a cheerful 90 % cut in household bills as well as a 20% reduction in initial build costs.
Professor Pete Walker of the University of Bath stated;
"The construction sector must reduce its energy consumption by 50% and its carbon emission by 80% by 2050, so radical changes are needed to the way we approach house building. As a construction material, straw is a low-cost and widely available food co-product that offers real potential for ultra-low carbon housing throughout the UK. Building with straw could be a critical point in our trajectory towards a low-carbon future".
After the production of both wheat and flour in Britain, officials have found that there are around 7 million tonnes of straw remaining after the process, not only this but half of the waste wasted due to its low value or is used as animal bedding. Experts estimated that 3.8million tonnes of left over straw could possibly be used to manufacture around 500,000 new homes on average and new homes equipped with three bedrooms would require around 7.2 tonnes of straw.
Craig White, who is a working member of ModCell stated;
"The Q mark industry certification means that straw is now a viable, affordable means of tackling the housing crisis in the UK. Using a "fabric first" approach is ideal for private homes, social housing and new, innovative projects such as custom-build. Straw now offers a simple and effective home-grown solution to the UK's housing needs."
Alongside Mr Whites comments, Professor Walker of the University of Bath added;"Over the past three years of research we have looked at various aspects of the performance of straw. Two that particularly come to mind as concerns or apprehension from potential users of straw are fire-resistance and weather-resistance. We have conducted a number of fire tests that have demonstrated that fire resistance from straw bale construction is remarkably good and better than many contemporary forms of construction. In terms of durability, we have undertaken laboratory tests and undertaken monitoring of existing buildings and we have also done accelerated weather tests. The results of all these tests suggest that straw is a very durable construction solution".
To date there are over 3.8million tonnes of straw that could have gone to waste in the UK so it is highly unsurprising that a separate straw housing development is currently taking shape on Cornwall.
(0) Comments
Latest News
Categories
Subscribe
Subscribe to receive a weekly update of our blog posts