DevAssist modify their reports!
Posted: 03/06/2014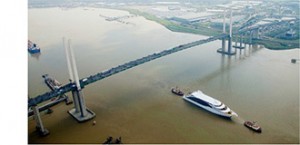 DevAssist are a company who provide conveyancing solicitors with new, unique reports. They improve due diligence by exposing unknown development risks and opportunities. Examples of their reports include DevAssess, DevCheck, DevEstate and DevAlert. For more information on DevAssist please click HERE.
For anyone who is an existing client of DevAssist and use their services frequently, you may recall one of their memorable case studies. It was the floating hotel that was planned for the docks in Tower Hamlets.
In June 2012 DevAssist were appointed to carry out a DevAssess report on a flat that enjoyed water views. During their investigations they discovered that the view will be significantly damaged by the mooring of a 600 bed, 6 storey floating hotel which would be permanently moored 29m from the property.

This story has become more interesting. This vessel is now build complete and has been towed to London from Holland (see picture above). Once fitted out it will find its new home in Meridian Wharf.

Paul Addison, Director of DevAssist, has met with three solicitors who have acknowledged that they have been involved in the conveyance of flats in the same apartment block. They had no knowledge of the Super Yacht Hotel. With its impending delivery this begs the question of how many flat owners are going to question why they did not know anything about this. This is with the exception of the buyer whose solicitor did commission a DevAssist Report.

Now think of it from the lenders point of view. Charles Chatterji who is a chartered surveyor and registered valuer states "the loss of such a water view in this case could take as much as 25% off the value of a property."

Finding a floating hotel is not common, but finding development risks and hidden value are. DevAssist find them in 10% of their investigations and 20% in London, and some of these are lending risks.

Their reports are designed with solicitor's client's best interest in mind, but there is another valuable benefit in obtaining these reports. It protects solicitor's PI position. Lets not tip toe around this. A risk to the client is a risk to solicitor.
That's why DevAssist have introduced a fundamental change to their DevAssess (re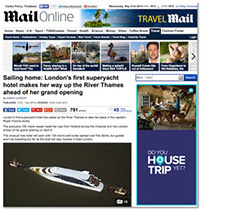 sidential) and DevAcquire (commercial) reports. They now make it crystal clear on the front cover of the report if there is a lending risk.
The DevAssist reports ensure that solicitors comply with their risk management principles and their duties to their client and lenders.
If you would like to know more about these reports or would like to purchase a DevAssist report, please contact Pali on 0151 691 1170 or email: search@paliltd.com.
Nicole Cran, Pali Ltd
(0) Comments
Latest News
Categories
Subscribe
Subscribe to receive a weekly update of our blog posts