Exclusive desktop search for Japanese Knotweed!
Posted: 28/04/2015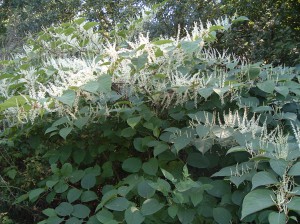 It is estimated that the annual cost for controlling Japanese Knotweed nationally is £1.6 Billion*. It is causing widespread damage to natural ecosystems and property, impacting asset values and affecting lending decisions.
Commercial conveyancers need to ensure that they have the full facts about Japanese Knotweed on site so that you can make an informed decision for your client.
We are delighted to announce the launch of the UK's first desktop Japanese Knotweed search report carried out by GroundSure, which will indicate the potential for Knotweed in the vicinity of a property or site.
Key features include:
Unique remote sensing technique returns data
Ordnance Survey Streetview location map
Site boundary polygon with 50m radius buffer
Polygon areas of detected Japanese Knotweed location returns for stands greater than 5m2
Indicative buffer showing potential extent of root system
Unique support from Phlorum - leading Knotweed treatment specialists:
Provision of Japanese Knotweed treatment options, tailored to available time scales and budgets
Free follow up plant verification service
View the sample report here
Prices for a Japanese Knotweed search through Pali start from £78 including VAT.
For more information on GroundSure's unique desktop Japanese Knotweed search, please contact Pali on 0151 691 1170 or email us at search@paliltd.com.
Kirsty Rogers, Pali Ltd
(0) Comments
Latest News
Categories
Subscribe
Subscribe to receive a weekly update of our blog posts