The fight for Fernbank Farm
Posted: 28/04/2015
Fernbank Farm is located off Sandbrook Lane, Moreton, Wirral at the side of Junction 2 for the M53 and has been leased by one family for 40 years. Fernbank Farm consists of 10.2 acres and is leased by the family of Carol Kane and her daughter Val Woodley and is used as grazing and stabling for their horses. They hold Fernbank Farm very dear to their hearts and have built up a small community over the years consisting of family and friends. Not only have they watched their children grow up on the farm but their grandchildren are now enjoying the freedom of the green open space. They regularly hold a friendly equestrian event called Fernbank Farm Fun Show which is enjoyed by many a horse enthusiast and is always praised for the welcoming and encouraging atmosphere.
However, the family have been absolutely devastated by the recent news from Wirral Borough Council that they have serious plans to cancel the lease and claim the land back so housing developers can create a new residential estate. A letter from Wirral Borough Council was received by Mrs Kane on the 9th August 2013 that stated that Wirral Borough Council are 'required to secure significant capital receipts in the coming years to offset reductions in funding. In light of this, Council officers have reviewed all council land holdings and will be recommending disposal of the land you currently occupy and so, unfortunately, it will not be able to grant the Association a new lease of the land.
The letter continues, 'The major part of the land has been allocated as a housing development site since February 2000, with the remainder being designated as primarily residential. This was subject to extensive public consultation at the time and the proposals were widely published.'
According to the family and friends that currently occupying Fernbank Farm, they were not aware of the public consultation held in 2000 that Wirral Borough Council outlined in this letter. They were also unaware of the proposals which were 'widely publicised'. Councillor Chris Bakeley and Ian Lewis have listened to the families pleas for help and joined the fight to save Fernbank Farm from becoming the next residential development site.
Mrs Woodley has set up a Facebook Page called 'Fernbank Farm' where she regularly posts updates on the progress of this distressing issue and is hoping to rally up as much support as possible. On one of her Facebook updates she writes, 'With public support we can make the council realise that to lose Fernbank Farm would be totally wrong, not only for us and our horses, but people living in surrounding areas, dog walkers, historians, bat conservations and the fact there is hardly any green space left in Moreton or surrounding areas. They (the Council) must open their eyes and listen to the people that vote them in.'
In less than a week 809 members have joined this page and agree that Fernbank Farm should not be turned into a development site. Ian Lewis and Chris Bakeley have posted on the Fernbank Farm Facebook page to let the members know that a meeting has been set up to discuss the 'situation' with Wirral Borough Council's director on Saturday morning. Legal advice is also being taken by Val Woodley.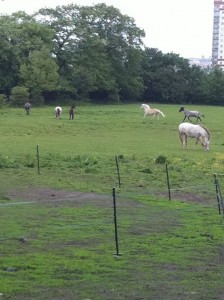 With the current difficulty of securing a mortgage and saving up for a deposit to purchase a house, many families have turned to renting. Because of the current situation labelled 'Generation Rent' the Government has encouraged councils across England and Wales to sell their land to residential developers so affordable housing can be built. This will then benefit those who wish to purchase brand new affordable homes with the help of the 'Rent to Buy Scheme' and the 'Newbuy Scheme'. Wirral Borough Council will be under pressure from the Government to build ample affordable residential properties to meet the needs of the growing population and try and help first time buyers and families onto the property ladder. New development sites have already taken place across the borough and Fernbank Farm is set to be the next target.
Do you think that a new housing estate on Fernbank Farm would be beneficial for the town of Moreton or do you support the campaign to keep Fernbank Farm as an open space? If you support the campaign to save Fernbank Farm, please join their Facebook page HERE and sign their petition which is soon to be set up online.
Amanda McGovern, Pali Ltd
www.paliltd.com
(3) Comments
Latest News
Categories
Subscribe
Subscribe to receive a weekly update of our blog posts