Flood defence construction is underway in Northwich
Posted: 26/08/2015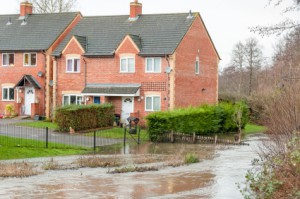 Work has begun in Northwich to reduce the flooding that effects 70 households and businesses. The project which is being funded by the Government, Cheshire West and Chester Council and the Environment Agency will see flood defences fitted in 9 sections alongside the rivers Weaver and Dane.
The Environment Agency's flood and coastal risk manager, Mark Garratt said, "Work to reduce flood risk has progressed well on Weaver Way, Water Street, Marine Approach Park. We're now commencing the most intensive and large scale phase of works on the Bullring, Hayhurst Quay Marina and on the right bank of the River Dane. While there will be some short term disruption, these flood defences are a huge long term gain for people and businesses in Northwich."
The public will still be able to access Northwich Quay Marina while the work is being carried out at the site and is predicted to be complete in November.
Work on the River Dane has already begun across the right hand bank and will require a work site to be constructed in the park however during construction businesses in the surrounding area are going to stay open.
Construction work has also started at the Bull Ring in the River Weaver Navigation however use of the Weaver Navigation is not expected to be impacted throughout construction and should only take around 3 weeks till completion.
Building work on Weaver Court is expected to begin in September.
Executive member for infrastructure and economic development, Councillor Brian Clarke said "The council continues to work in partnership with the Environment Agency on this vital flood defence for the ongoing regeneration of Northwich. The scheme will help to secure the future prosperity of Northwich, increasing confidence of investors in the area and protect the town centre from serious flooding for many years to come."
If you would like to purchase a flood search from Pali please contact a friendly member of staff on 0151 691 1170 / search@paliltd.com
Kirsty Rogers, Pali Ltd
(0) Comments
Latest News
Categories
Subscribe
Subscribe to receive a weekly update of our blog posts