Groundsure Energy
Posted: 28/04/2015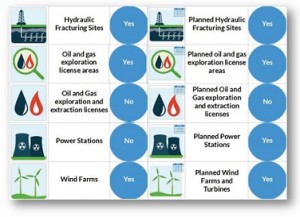 Fracking, wind farms and other forms of major energy resource projects are of increasing concern to homeowners and property investors in the UK.
In response to this drive for new and renewable energy, GroundSure has produced a new report that will identify sites of interest within 25km of a property.
GroundSure Energy is the only report that details existing and upcoming applications for shale gas, oil, gas, wind and power stations, bringing with it potential advantages as well as disadvantages. Communities in proximity to fracking and wind power sites could see subsidised energy bills, however this could come at the cost of the homeowner's future enjoyment of their property.
The report includes:
Onshore sites currently licensed by DECC for shale gas exploration (fracking), coalbed methane, oil, gas and mine gas;
The very latest data on sites that have applied for planning permission to drill for shale gas;
Areas currently licensed for oil/gas exploration;
Areas which are due to be licensed for oil/gas exploration;
Existing wind farms;
Planned wind farms;
Data on all types of power stations (planned and proposed)
GroundSure Energy - Residential £24.00 inc vat
GroundSure Energy - Commercial £60.00 inc vat

(0) Comments
Latest News
Categories
Subscribe
Subscribe to receive a weekly update of our blog posts