HS2 speed reduction
Posted: 28/04/2015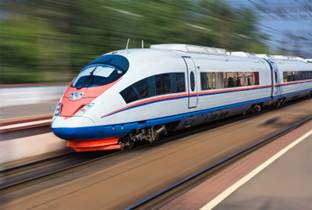 After developing ideas to build a high speed rail link which is also known as the HS2, the Government produced scheme had to deal with negative impacts forced upon the project courtesy of a large group of MPs who urge the proposed 225mph high speed trains to be dramatically reduced in fear that it could possible increase carbon emissions. However, if they proceed to reduce the preposterous speed the opposite affect would occur. Officials state that the HS2 speeds should be cut by almost 40 mph.
With many factors to consider around the HS2 project, it has had its fair share of negativity. The suggestion to bring down the speed is only one out of many disapprovals surrounding the project rumoured to cost around £50 billion. This query had been part of a parliamentary report that had been accidently uncovered and viewed by The Mail on Sunday.
Reducing the existing speed that is set for the HS2 may increase the length of a journey by 10 minutes, this may include a journey from London to Birmingham consequently making it 25 minutes faster than current train speeds. Many people fear that the carefully devised scheme is a waste of time, effort and money and although some costs are being saved on numerous journeys the amount will not be making up for the overall cost of the construction.
Having investigated the HS2 records, the Environmental Audit Select committee had landed upon a number of things just a couple of weeks prior to a vital Commons Vote with regards to the legislation terms that must be passed in order for the HS2 project to go full steam ahead.
The report produced by the MP's had stated the following points;
The maximum speed on the line should be cut from 225mph to 185mph to reduce carbon emissions.
Environmental surveys on the impact on ancient woods and wildlife have not been carried out on nearly half the land along the route.
The scheme's calculations for its 'biodiversity offsetting' plans are not comprehensive and could endanger rare plants and bat species.
HS2 must ring-fence a separate budget for environmental protection and monitor measures for 60 years.
The Mp's criticisms are based upon the actions of current campaigners who are part of the HS2 Action alliance, this had been displayed by an official report claiming that the figures collated for carbon footprints and electricity consumption with regards to the HS2 project are incredibly biased. Based on the initial estimate on how much of a carbon impact the High Speed Rail link will create, the Alliance have stated that phase 1 of the project will see that estimate rise almost double than first anticipated leaving them extremely similar to the current emissions of 1.44 million homes situated in the UK.
Are you for or against the decision to decrease the speed of the HS2 trains? Are you in favour of the project at all?
Nicole Cran, Pali Ltd
(0) Comments
Latest News
Categories
Subscribe
Subscribe to receive a weekly update of our blog posts