Latest HS2 Announcement Affecting Warrington and Wigan Areas
Posted: 23/11/2016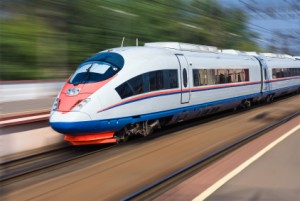 The controversial route for the second phase of the high-speed rail line HS2 was confirmed by the Government on the 15th November 2016. HS2 could create around 25,000 jobs during construction along with the creation of around 2,000 apprenticeships, and an additional 100,000 jobs through growth in the wider economy.
However, there still remains mixed opinion within North West England communities over the affects the route will have on the local environment and residential areas.
The impact on Local Areas
The new plans show that the train line will still go through Lowton but will be built further south, which will avoid Pennington Flash Country Park, and the proposed HS2 depot will now be built at Crewe instead of Lowton. The controversial Golborne spur line remains in the plans. Slag Lane and Byrom Lane will no longer be re-routed, reducing potential damage to the local environment and also preserving Green Belt land. The line will now run through a cutting in St Mary's Village.
The original plan was for the train line to run through Taylor Business Park in Risley and also within 500 metres of approximately 500 homes but the route has now been changed. The spur line between Manchester and Wigan, will still run through Culcheth and Rixton, and the existing line from Crewe to Warrington will not be used, meaning that the line will cut through large parts of Warrington, which include Broomedge, Hollins Green, Culcheth and Croft.
Currently the proposal does not feature a hub for Warrington, but instead the route will run around Warrington and join the west coast mainline north of the town via a spur line from near Manchester airport to Golborne. Warrington Borough Council strongly opposes the inclusion of the spur line (referred to as the Golborne Link by HS2), there hope was for a hub station at Warrington Bank Quay.
HS2 Phase 2a will open in 2027 with the North of England Phase 2b anticipated to be up and running by 2033.
If you would like to purchase a HS2 Distance Checker from Pali please contact a friendly member of the team on 01925 227509 / info@paliwarrington.co.uk
Caroline Hymers Pali Warrington Ltd info@paliwarrington.co.uk
(0) Comments
Latest News
Categories
Subscribe
Subscribe to receive a weekly update of our blog posts