Pali HQs Mince Pie Competition - Continued...
Posted: 02/12/2014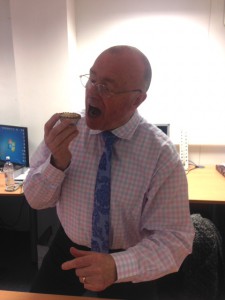 Following on from the first edition of the Pali Mince Pie Competition, more mince pies have been tested and scores are coming in thick and fast!
As you may have read on Pali's first mince pie blog, there was a bit of drama when the Asda baked in store mince pies were sabotaged by some of the male apprentices. However, this didn't stop Nick Senior who came to the rescue and bought another tray to be tested by our trusty team of 9 including; Liam, Gill, Julie, Mal and Eve!
To recap, the scores are as follows;
Aldi - 51
Greggs - 64
Iceland - 62
Morrisons - 72
And the new scores are listed below;
Asda Extra Special - 61.5
Asda Baked in Store - 79
Mr Kipling - 66.5
Lidl 'Snowy Lodge' - 46.5
The hot favourite are from Asda, baked in store with a huge score of 79!
If you know a shop that sells mince pies and would like to make a suggestion, please feel free to comment below and Pali will test as many mince pies as our waist lines can handle!
Pali Ltd – always bringing you the best conveyancing searches known to man and still comparing mince pies! All for the love of our clients and readers to ensure your Christmas has no disappointments in the food department!
Amanda McGovern, Pali Ltd
www.paliltd.com

Google +
(1) Comments
Latest News
Categories
Subscribe
Subscribe to receive a weekly update of our blog posts