Pali wins Best Use of Technology at the Modern Law Conveyancing Awards
Posted: 18/07/2016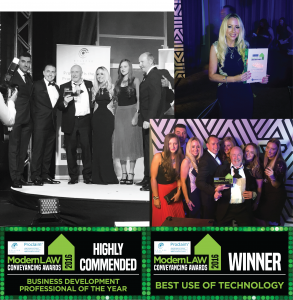 Its win win for Pali as last Thursday they walked away with the award for Best Use of Technology as well as their Business Development Director, Jo Milne, receiving Highly Commended in the Business Development Professional of The Year Award.
The team at Pali had a fantastic night at the Modern Law Conveyancing Awards Ceremony held at the Rum Warehouse situated within the lavish Titanic Hotel in Liverpool.
Pali was shortlisted for the category Best Use of Technology and Jo Milne, Business Development Director was also shortlisted in the Business Development Professional of the Year Category so were excited to attend the prestigious event in the hope of adding more awards to their ever growing collection. This was the first year The Eclipse Proclaim Modern Law Conveyancing Awards took place following the success of The Eclipse Proclaim Modern Law Awards.
The winners were chosen by an esteemed Judging Panel, who have been selected based on their knowledge and experience of the industry. These new awards recognise those taking the lead in innovating to find unique solutions for their businesses and clients, those who have achieved successes as teams or individuals and those championing client care.
Pali (Property And Land Information) is a multi-award winning Conveyancing Search Company and have been established since 1999. Pali is very much an IT focussed company and have a team of in-house IT Programmers working to improve their already sophisticated user-facing system but also developing innovative facilities to keep Pali ahead of the game. Pali recognise in this day and age and with the amount of competition out there, it's not enough to simply offer searches to conveyancers. A lot of conveyancers these days are looking for an online solution that will also integrate with their case management system to make everything as streamlined as possible. Today Pali has not only integrated with third party companies such as Groundsure, CLSL, Land Registry, Ordnance Survey and many more but they have also integrated with case management systems such as Eclipse Proclaim, meaning their clients only need to log in to one system.
Nick Small, Technical Director at Pali said; 'I am thrilled Pali has won Best Use of Technology at the Modern Law Conveyancing Awards. IT plays a big role in the service we provide to our clients so to win an award in this category, really does mean a lot to us. We have introduced many IT facilities over the years to our clients so it's nice to know our innovations are recognised within the industry. The trophy will fit nicely alongside the other four we have been awarded in the past few months.'
For more information on the service Pali provide please visit www.paliltd.com or email search@paliltd.com
(0) Comments
Latest News
Categories
Subscribe
Subscribe to receive a weekly update of our blog posts