Pali Wins Two Prestigious Technology Innovator Awards!
Posted: 25/08/2015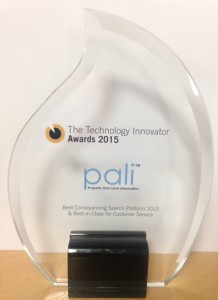 It's a double whammy for Pali who have recently been awarded 'Best Conveyancing Search Platform 2015' and 'Best-in-Class for Customer Service' in the 2015 Technology Innovator Awards.
Based 100% on merit and a reflection of those people and businesses currently making an impact in their industry, after a process involving industry research, analysis and vote counting, Conveyancing Search specialists, Pali Ltd, have won two prestigious Corporate Vision Technology Innovator Awards. The categories won were 'Best Conveyancing Search Platform 2015' and 'Best-in-Class for Customer Service.'
In an incredibly short space of time, technology has almost completely transformed the way in which we do business.
Just a few short years ago, businesses of all types placed an enormous emphasis on cultivating and maintaining human relationships, through client visits and invaluable face-time. However, today, while the value of these relationships cannot be downplayed, advances in technology have paved the way for global businesses to operate in a far a more efficient, timely and cost-effective manner.
Technology has taken centre stage as a crucial component of any business and doors have been opened for businesses of all types, from SMEs to large multi-nationals to capitalise on easier access to international markets and streamlined processes. As the corporate world continues to evolve, the importance of technology and its role to play cannot be overstated.
The 2015 Technology Innovator Awards highlight the individuals behind these ground-breaking developments, and through these awards, we have sought to ensure that we shine the spotlight only on those cutting edge individuals, departments and firms who, through their commitment, experience and willingness to explore and take advantages of the opportunities presented, are developing and sharing the technology that will continue to enhance and fundamentally alter the business world for the better for many years to come.
Jo Milne, Marketing Director at Pali Ltd said 'My Co-Directors and I are thrilled to have won not only one, but two prestigious Awards from Corporate Vision. Not only is it a tremendous achievement but it is recognition of all the hard work each member of staff at Pali puts in to the business. We have always prided ourselves on our Innovative IT developments and excellent Customer Service and winning these two awards shows hard work does pay off. I would like to thank everyone who voted for us and we will continue to strive to offer our clients a first-rate service.'
If you would like more information on the award winning services and products Pali offer, please contact a friendly member of the team on 0151 691 1170 / search@paliltd.com or visit their website www.paliltd.com

(0) Comments
Latest News
Categories
Subscribe
Subscribe to receive a weekly update of our blog posts