Plans for HS3 revealed!
Posted: 28/04/2015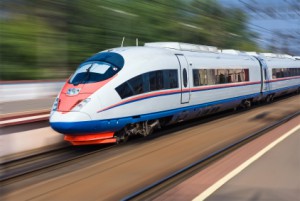 Today George Osborne has shown that he continues to be unaffected by the controversy following the plans to build the first high-speed rail line to the north of London as he reveals plans for another line to be built between Leeds and Manchester.
This is the latest attempt to gain support for the Tories in northern England as the Chancellor has made a speech in Manchester announcing the plans for the HS3 and claiming it will help create a "northern powerhouse" and allow the north of England to "take on the world".
George Osborne, who is a north-west MP, is calling for a 3rd high-speed line to connect Leeds and Manchester as part of a proposal to generate a hub between the great northern cities to compete with London. Eventually he hopes to connect these two cities with Sheffield and Liverpool.
The chancellor will be accompanied by the chairman of the company in charge of the HS2 Sir David Higgins when making his speech. The chairman has previously said the key arguments in support of the new rail line are to enhance the connections between the great northern cities. The key argument in support of the high-speed line linking Birmingham and London is to raise capacity.
Although Osborne declined to put a price on the cost of the HS3 project, it is estimated to cost £6 Billion to £7 Billion if it costs the same per mile as the HS2. However it is possible that this line may be cheaper due to the possibility of developing and updating existing tracks.
At present the plan or the first phase to link Birmingham and London has caused controversy due to its hefty price tag and the disruption it will cause for local residents. The desired 2nd phase includes extensions connecting Leeds and Manchester with Birmingham the final route of which is predicted to be chosen by the end of 2014.
Support for the Conservative party has been declining in northern England where many of the main cities lack Conservative party councillors. It is hoped that the Chancellors statement will show his party's desire to increase prosperity nationwide and not just in its stronghold in southern England.
What is your opinion on the latest proposed high-speed line? How will it affect you?
Kirsty Rogers, Pali Ltd
(0) Comments
Latest News
Categories
Subscribe
Subscribe to receive a weekly update of our blog posts