Salcombe named Britains most expensive seaside town to buy property
Posted: 23/06/2015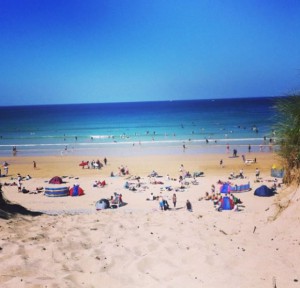 With excellent sailing, fresh seafood and stunning scenery, Salcombe certainly sounds like an appealing location to set up a home. But all this comes at quite a price, as this popular seaside spot in Devon has been named the most expensive seaside town in Britain to buy a home.
With a 9% increase since last years figures, the average house price is typically £672,874, and the average price for a property on the waterfront is now a whopping £2 million. Out of 196 seaside towns, for the second year on the run Salcombe was found have the most expensive properties on the market.
Salcombe is home to celebrities such as broadcaster Sir Michael Parkinson and the town also attracts wealthy buyers looking for a holiday home. More than 40% of the properties in this town are second homes. In 2014, estate agents dubbed it the UK's 'prime waterfront' with three-bedroom apartments on the water's edge costing as much as £1.7 million.
In comparison, the cheapest seaside town is Newbiggin-by-the-Sea in Northumberland where the average house price is £84,000. In this year's study which was carried out by Halifax, Sandbanks in Dorset came second as the most expensive seaside town to buy property in with an average property costing £614,726.
Those daydreaming of a seaside haven with a more realistic price tag may want to consider looking to Scotland because 8 of the 10 of the least expensive seaside towns are located north of the border!
BRITAINS TOP 10 PRICIEST SEASIDE RESORTS
Salcombe, Devon £672,874
Sandbanks, Dorset £614,726
Aldeburgh, Suffolk £413,393
Lymington, Hampshire £404,781
Dartmouth, Devon £403,767
Padstow, Cornwall £387,109
Lyme Regis, Dorset £343,604
Budleigh Salterton, Devon £342,442
Bigbury on Sea, Devon £330,146
East Wittering, Sussex £330,146
Port Bannatyne, on the Isle of Bute, was the cheapest location in Britain, with homes costing £73,539 on average – meaning someone could snap up nine typical properties there for the price of just one in Salcombe.
Craig McKinlay, Halifax, said:
"Seaside towns have a distinct attraction, offering that all important sea view … There is a romance associated with living by the sea and this is evident in the high house prices."
While a hike in house prices is good for the small economies of thriving seaside towns, local people say they are at risk of being pushed out by wealthier buyers looking for second or third homes.
Last year, as Salcombe was named the most expensive place to live but the town's mayor told The Guardian that local people were being pushed 'up the hill'.
"It's very difficult for locally born people, who have basically shifted up the hill. A lot of people in the area are in jobs that pay little more than minimum wage."
What's your favourite British seaside town to visit or would you prefer to jet off aboard this summer?
Eve Blakemore, Pali Ltd
(0) Comments
Latest News
Categories
Subscribe
Subscribe to receive a weekly update of our blog posts