Show Jumping Star Amanda McGovern from Pali HQ wins 1st 2nd and 3rd!
Posted: 11/08/2014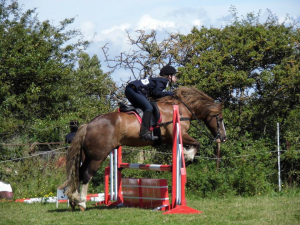 Show jumping Star Amanda McGovern from Pali HQ comes 1st 2nd and 3rd!
Amanda McGovern from Pali HQ has competed in three show jumping events this season with her trusty steed - Morgan!
Pali (Property and Land Information) provides Solicitors and Conveyancers with an online solution to the ordering and retrieval of conveyancing searches for anywhere in England and Wales.
The competitions have been held at Landmark Riding Club which is located in Meols on the Wirral and the height of the jumps Amanda competes at is 70-80cm.
Amanda first started riding when she was 10 years old and she was very fortunate to be bought her pony Morgan two years later after advancing in the riding school very quickly. Amanda & Morgan have been a dream team for over 10 years now and have attended many competitions over the years.
Amanda attended her first event of the year in April where she won 1st in her show jumping class, then again in June when she won 3rd and the last show was held on July 27th when she won 2nd! Well done Amanda! She is hoping to attend the next competition on the 24th August. Good luck Amanda & Morgan!
(0) Comments
Latest News
Categories
Subscribe
Subscribe to receive a weekly update of our blog posts