The Crossrail line set to add a massive 5.5 billion pound to property values!
Posted: 17/08/2015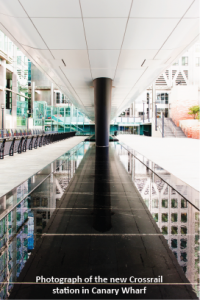 The high speed rail network is not expected to be launched until 2018, however the Crossrail is already increasing property values along its planned route.
Ian Lindsay, the company's property and land director, has predicted that the Crossrail will add up to 5.5 billion pounds to house values. This prediction comes as twenty six miles of tunnelling underneath London is completed, alongside the completion of the first properties built above a Crossrail station.
The network which is set to run from Abbey Wood and Shenfield in the east to Reading in the west will cut travel times to London considerably and cause a 10% increase to the Tube capacity.
57,000 brand new houses are going to be built along the rail route with savvy investors and forward thinking homebuyers aiming their focus on the neighbourhoods being thrust into the public eye.
In south-east London, Woolwich is on its way to becoming a key transport hub. The Woolwich station is being constructed within the Berkeley Homes development the 88-acre Royal Arsenal Riverside. In 2030 once the project is complete it is expected to have 5000 new homes.
Over 1000 of these new homes are gong to be situated above the station and the first stage of has already been constructed on the east side. Of the 631 apartments at Cannon square, 90% have already been purchased off-plan. There are still two-bedroom and three-bedroom apartments remaining and prices start at £647,500, however for a duplex penthouse the price rising to £875,000.
The managing director of Berkeley Homes, Karl Whiteman says, "Crossrail is without doubt the most important new transport infrastructure for London and the South-East for a generation. The new Crossrail station will make Woolwich one of the best-connected parts of the capital."
Crossrail has also been granted planning permission to construct almost 400 new homes at Armourer's Court in 5 buildings surrounding a landscaped garden to the West of the train station.
According to CBRE, the value of properties built near stations along the Crossrail route have increased by 20% more than underlying capital appreciation in the South-East and London since 2008 when the plans for the line were approved.
CBRE also predicts property prices to rise a further 13% or 60,000 pounds by 2018. In London this will be nearer 20%, typically boosting the value of properties by £100,000.
Would you be willing to pay more for a home along the Crossrail network?
Pali provide an HS2 and Crossrail Report for £18.00 inc vat which details the proximity of any site to the new HS2 and Crossrail rail networks. If you would like to purchase this report please contact a member of the team on 0151 691 1170 / search@paliltd.com
Kirsty Rogers, Pali Ltd
(0) Comments
Latest News
Categories
Subscribe
Subscribe to receive a weekly update of our blog posts