Unusual weather threatens the UK once more!
Posted: 28/04/2015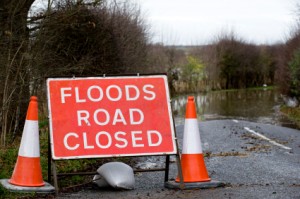 Britain faced one of the most vicious storms since records began on Wednesday after death-defying gales of up to 100mph and torrential rain fall swept the country making the already treacherous flood levels higher and ever more dangerous. News of another storm brewing over the South West ready to smother the country yet again with more rain and wind has brought depression to an ultimate new level this winter. Experts fear that potentially two more storms are expected to approach over the weekend!
These extreme weather conditions are wreaking havoc nationwide including Wiltshire where one member of the public is said to have been struck by falling power lines! Experts describe the peculiar weather as an "unparalleled natural crisis" and claim that the damage could cost around £15 million to amend.
Various areas were taken hostage to the outrageous storms, being obliterated by hurricane force gales and swamped by flooding which seem to be consuming every inch of the land. Wales and the North West of England were issued with a red alert by the Met Office meaning that there was a threat to life due to the severe weather conditions.
With all the current devastation of the aggressive stormy weather sweeping the nation, experts dread that it is not the last the UK will see of it. Unfortunately one storm is set to hit the country early this afternoon and further storms are said to be approaching thick and fast within the coming days. There is however one day of respite on Sunday according to the BBC weather forecasts until the next episode unfolds across the country.
With power lines falling and trees collapsing, a gigantic sum of the public where left without power. Military troops were put on standby in preparation for the clean-up after the 108mph gusts of wind hit Aberdaron on the North Wales coast.
Colossal quantities of the rail network have been forced to grind to a halt due to various obstacles now standing in the way such as the collapse of overhead power lines, fallen trees and debris covering the tracks. Various speed restrictions have also been put into place due to the speed of the winds and Virgin Trains issued a worrying statement for all customers to "terminate travel" and insisted those currently travelling to abandon their trip and get off at upcoming stations fearing that the spontaneous weather could get worse. Meanwhile at Crewe station in Cheshire all journeys where also ground to a halt due to the roof being blown off the station however, later that day the station was re-opened.
As well as homes being terrorised by the fierce outbursts, large setups such as ports and airports have also been bombarded by the storms. Numerous port crossings face delay or were cancelled completely for example, routes between Dover and Calais. Conditions equal to this have been intensifying in numerous places meanwhile in Liverpool all Mersey Ferry services were terminated.
A number of airports such as Liverpool John Lennon and Manchester International experienced numerous disruptions with their flights as well as Birmingham and Cardiff also experiencing some delays.
A former forecaster from WeatherWeb issued the following warning; "It's not over yet, we have to get over Saturday first of all. We can describe today's (Wednesday) storm as exceptional. It's probably the strongest we have had this winter in terms of the broad area it has covered."
If you are purchasing a property and would like to know if this property is at risk of flooding, you can purchase a Residential Groundsure Flood Report from Pali for just £22.20 inc VAT. If you would be interested in purchasing one of these reports, simply contact us on 0151 691 1170 or email search@paliltd.com
Tell us how you have been effected by the storms and what damage it has done to your property ?
Nicole Cran, Pali Ltd
www.paliltd.com
(0) Comments
Latest News
Categories
Subscribe
Subscribe to receive a weekly update of our blog posts