Comments : Apprenticeships really do work!
Posted: 28/08/2014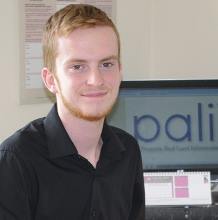 Congratulations to James Liptrot who has completed his Level 2 Business Administration Apprenticeship with flying colours. James started his apprenticeship as a Search Administrator for Property & Land Information (Pali) in July 2013, after completing his 'A' Levels in Physics and Maths.
Pali are a specialist Property Search company based in Lowton, Cheshire who work with Solicitors and Licensed Conveyancers to deliver a Property Search Service. As a fundamental part of the Conveyancing process this requires diligence, absolute accuracy and attention to detail, collating and interrogating data to deliver vitally important search reports within specific timescales.
"James has submitted some excellent evidence and I have been able to rely on him to work to a high standard at all times. It has been a pleasure working with him" says Linda Kinsella- Trainer Assessor in Business Admin & IT for Warrington Collegiate who has worked with James over the past 12 months.
James 20 years of age from Pennington Leigh commented on his achievement; "This apprenticeship has given me the opportunity to gain experience within a specialised role, whilst also enabling me to obtain the relevant knowledge and skills needed to work in an professional office based environment"
"James has proven to be a valuable asset to the company and it has been very rewarding to see him develop his skills and grow professionally over the past 12 month and he will now be remaining with the company in a full time role" says Managing Director Jeanette Leigh.
Latest News
Categories
Subscribe
Subscribe to receive a weekly update of our blog posts