Comments : Pali HQs Mince Pie Competition!
Posted: 24/11/2014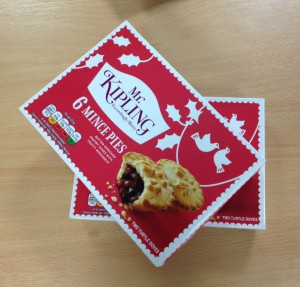 To prepare for the forthcoming Christmas 2014 and to get into the festive spirit, Pali HQ has decided to undertake a mince pie competition! The aim is to compare mince pies from different shops on the high street and determine which mince pie was the best and deserved to get the honour of being eaten on Christmas Day!
Each mince pie tester is able to give a score of 1-10, 1 being awful and 10 being faultless. We test the taste of the crust, the richness of the filling, amount of filling, level of baking, (pale or nicely browned ) and the texture of crust. So far the following varieties have been tested and here are the tallying scores;
Aldi - 51
Greggs - 64
Iceland - 62
Morrisons - 72
Asda Extra Special - to be confirmed
We have also tested mince pies baked in store by Asda which were very nice but the competition was sabotaged and the majority of the mince pies were not tested by the selected Pali members but were pinched by some of the male apprentices! Unfortunately the score (which was very high) had to be ruled out but have no fear, Pali are here and we are dedicated to testing more mince pies in the coming weeks so please look out for our next edition of the Mince Pie Competition!
Pali Ltd – bringing you the best conveyancing searches known to man and comparing mince pies to ensure your Christmas has no disappointments in the food department!
Amanda McGovern, Pali Ltd
www.paliltd.com

Google +
Latest News
Categories
Subscribe
Subscribe to receive a weekly update of our blog posts