Comments : PALI LTD MAKES THE SHORTLIST IN RECORD YEAR FOR THE ESTAS
Posted: 08/03/2016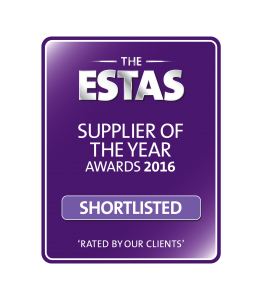 Pali Ltd is the only Search Company to have been shortlisted in the biggest awards for the residential property sector in the UK, known throughout the industry as The ESTAS.
Pali Ltd has been recognised for its outstanding customer service to its clients by the largest and longest running award scheme in the UK residential property industry.
The ESTAS sponsored by Zoopla determines the best agents and suppliers in the UK through research carried out amongst customers who are asked a series of questions about the service they have received from their agent or supplier. This year saw record entries making the competition the toughest yet and one of the biggest surveys in the UK property industry with just over 30,000 customers completing one of the online questionnaires.
The supplier categories are sponsored by Angels Media publishers of Estate and Letting Agent Today and provider of ValPal. Angels Media chief executive Nat Daniels says: "These record figures show just how far the ESTAS have come, they also demonstrate how keen clients are to provide feedback. Client feedback provides agents and suppliers with a useful way of measuring up to their competitors as well as highlighting how they can improve their service in the future. We're very excited for this year's biggest ever event at the new venue."
Fifteen supplier firms have made this year's shortlist across various product sectors. The 'Best in Sector' and 'Supplier of the Year' will be announced by TV property expert Phil Spencer. The 13th annual ESTAS ceremony is to be held for the first time at the Grosvenor House Hotel where 1,000 of the UK's top property professionals will gather to see the winners announced. Spencer said "Any firm that enters The ESTAS has already sent a clear message that they are passionate about customer service so to make it on to the shortlist is a huge achievement in itself".
Simon Brown, founder of the awards says "Its client feedback which determines who is shortlisted and ultimately who wins that makes The ESTAS so valuable. We've introduced categories for conveyancers, mortgage brokers and developers so The ESTAS now recognises the best firms across the whole of residential property sector."
Jon Notley, Chief Commercial Officer of headline sponsor Zoopla said, "This is our sixth year sponsoring The ESTAS and we are delighted to be once again supporting this key industry event. Customer feedback is essential to any organisation and it is fantastic to see the best in the industry being recognised for their efforts. Good luck to all those taking part and I look forward to meeting the winners on stage in April!"
Jo Milne, Marketing Director at Pali said "We're absolutely delighted to have made it on to this year's shortlist. We are passionate about the level of service we deliver to our clients and this proves all the hard work the team put in has paid off".
Latest News
Categories
Subscribe
Subscribe to receive a weekly update of our blog posts