Brexit has hit Britain's property market with many becoming concerned about the house prices within their area. At the start of the year subsequent to 'almost grinding to a complete halt', the increase in property prices continued to be suppressed according to Nationwide Building Society.
The average price of a house within Britain has decreased after the price last month being £211,304 which was lowered from £211,966 which was the month previous.
Many observers assign the slow-moving housing market down to the hesitation around Brexit. Its in dispute that many individuals who are looking to sell and buy properties are holding off on what decisions they'll make until Britain exits the EU.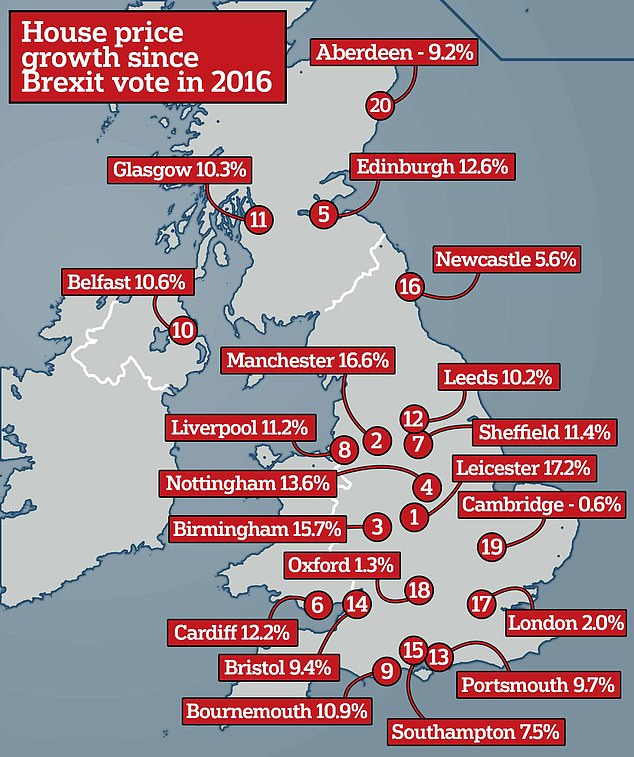 Despite the property market slump, there have been areas up and down Britain that have experienced an increase in values. These include, Manchester and Leicester both of which have seen a price increase of 16.6% and in turn 17.2% since the vote which happened in 2016.
In addition to the above locations there is also said to be 10 other areas within Britain that have had a double-digit house price rise. The list, which was produced by Zoopla, covers areas in Northern England, such as Leeds and Nottingham as well as places in Scotland, Edinburgh, Bournemouth in the South of England and Cardiff in Wales.
The capital which tends to have higher property values than elsewhere in Britain has been one of the hardest hit areas. In London the house prices have increased marginally by only 2% since the vote.
According to Research and Insight Director for Zoopla Richard Donnell, there is a change on outlook, he stated 'House prices in London are starting to firm'.
He also added 'Buyers who have stood on the side-lines since 2015 are starting to see greater value for money, seeking out buying opportunities amidst the uncertainty of Brexit. This is supported by greater realism on pricing by sellers.'
After the 2016 vote on Brexit, house prices have rose 8.8% or the same as £17,624 stated Zoopla. This was said after Nationwide made a statement, saying prices fell 0.1% last month between January and February.
The chief economist at Nationwide stated 'After almost grinding to a complete halt in January, annual house price growth remained subdued in February.'
Lauren Williams, Pali Ltd
www.paliltd.com