At last. After several years in gestation the much vaunted rollout of the Land Charges registers for local councils begins with Warwick going online.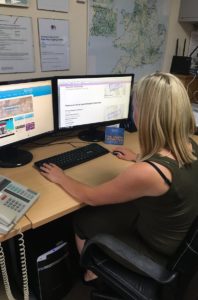 Nicole of Pali (Property And Land Information) placed the first order for an LLC1 through the Land Registry Portal.
When asked what she thought of the process Nicole commented, "It was pretty simple really although it was a little disconcerting when the system showed results which were not related to the property I was searching against as well as those which were. As an experienced search company employee, I was able to separate what was and was not relevant but it would certainly prove confusing for less experienced users."
Nick Small, Technical Director at Pali, added, "This is an important step in bringing council Land Charges records in to the twenty first century although it will be a few years before all councils are digitised. This was supposed to happen ten years ago with the NLIS portal but was never successful and fully adopted by less than half of councils.
For conveyancers used to buying searches direct from councils this is just adding another step to the process although buyers using private search companies such as Pali will not be affected. They will still have a "one stop shop".
Melissa Hogan, Pali Ltd