Many people in West London have been forced to evacuate their homes after two multimillion-pound terraced townhouses crashed from top to bottom. The luxurious homes were undergoing renovation at the time.
The collapse happened on Durham Place in Chelsea. Luckily, no one was hurt, and emergency services evacuated the nearby homes safely.
The first man to see the crash, rang the police and said, "it was extremely loud, there was dust everywhere." (The Guardian, 2020).
The planning permission submitted by the company Seabrook Properties, was accepted by Kensington and Chelsea council. The document from the council detailed the renovation for a rear extension to the lower-ground floor with a terrace.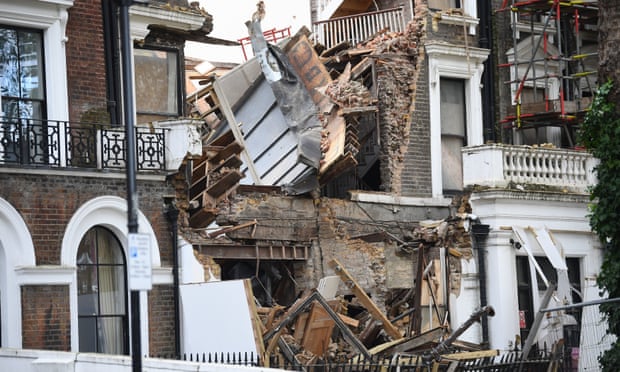 (Picture credit: The Guardian, 2020)
Another application was submitted just before the property fell regarding the home next door, this noted:
"basement excavation, demolition of extension and roof terrace and replacement with a two-storey rear extension with roof terrace, and a single storey extension at the lower-ground floor". (The Guardian, 2020)
Multiple large developments have become extremely popular in London's neighbourhoods and most basement levels can go 18 metres underground.
When building or reconstructing a property it is important to ensure you have the approval of the properties planning permissions if vital. If you require planning permission but you continue without it, you will have committed a planning violation which can cause issues for you and your property in the future. The consequences for you can be substantial such as demolishment, fine or a prison sentence.
If you have any concerns regarding your property or purchase, please contact one of our friendly members of our team on search@paliltd.com/0800 023 5030.
References:
The Guardian. 2020. London Street Evacuated After Two Houses Collapse During Building Works. [online] Available at: <https://www.theguardian.com/uk-news/2020/nov/03/london-street-evacuated-after-two-houses-collapse-during-building-works?CMP=Share_iOSApp_Other> [Accessed 6 November 2020].