Contaminated land is land where substances in or under the land make it actually or potentially hazardous to people's health, or to the environment, which Pali can help protect you against!
Recently, it has been revealed that 9 of the 10 worst locations for land contamination have been found in England. The remaining poor locations for contaminated land was listed in Scotland, with nowhere in Northern Ireland or Wales making it to the top 10. It has been recorded that Warrington, Cheshire is the UK's most contaminated town and following closely behind is Sefton in Liverpool.
However, it is imperative to remember that the methodology supporting this work has some weaknesses. Even though all councils in the UK were able to supply a full rundown of how many sites in their area were contaminated, it was only those that provided the overall square metres of affected land were listed. Despite the fact that it wouldn't change the list significantly, it could mean some councils are not featured, even though they have faced contamination, and as a result the list ends like this: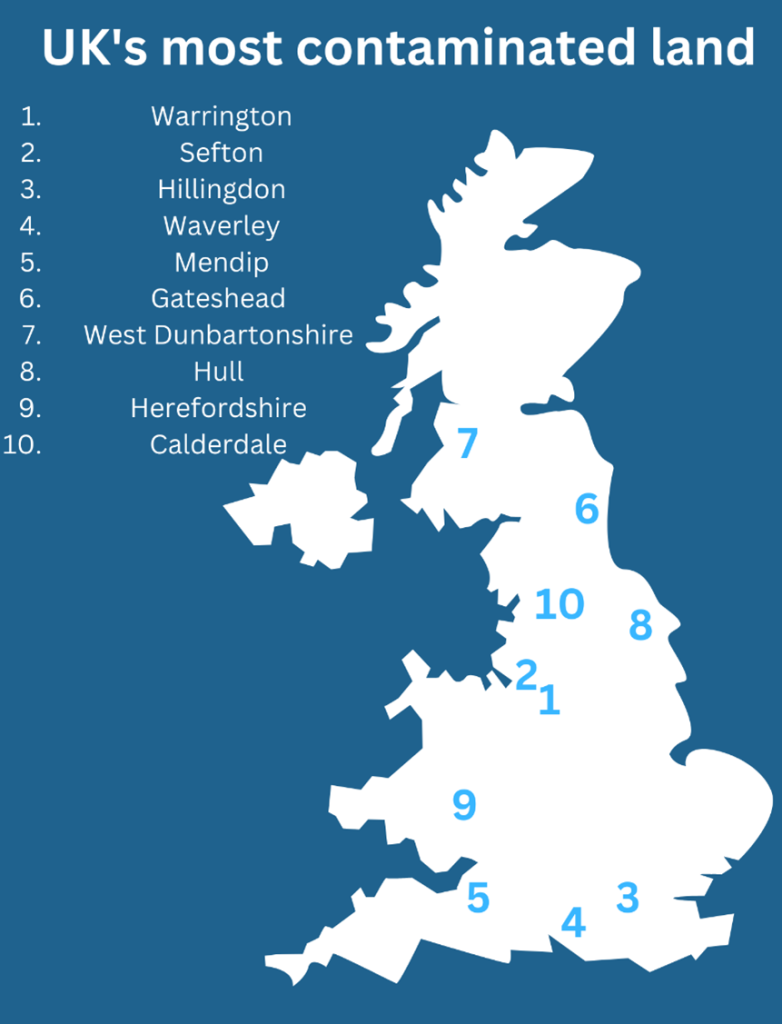 This information is here to help you understand the meaning of contaminated land that could potentially be close to you, as well as the importance of checking before buying a property by ordering the correct environmental reports.
Pali offers several services including Environmental Reports, which contains a professional assessment of a property or area of land in relation to the nearby environmental factors and states whether there needs to be any further action relating to any issues that is identified. These reports will help you find out any historic and current records, or whether any past use is likely to have led to contamination. Our services can suit all different scenarios including Residential properties, Commercial properties, Developments, land, and Agricultural Transactions, as well as offering reports that detail information of Energy, Infrastructure and Transportation that may affect the property/land.
Pali can provide a wide range of environmental reports covering contaminated land hazards from companies, such as FCI, Groundsure and Landmark. If you would like more information on ordering these reports, contact us on search@paliltd.com or 0800 023 5030 today.