Keeping Ahead of the Game 
With more and more first-time buyers taking their initial steps onto the property ladder, cutting through the confusion has become the key to keeping ahead of the game.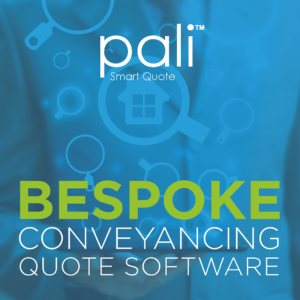 With a smart interface that intuitively mimics the branding of the chosen website, including colours and theme, Pali's Smart Quote not only integrates perfectly within the site but looks good whilst doing so.
What is it?
Pali's (Property And Land Information) bespoke conveyancing quotation system is an application comprising of two elements:
The first: an in-house calculator which generates accurate quotes using the companies' pricing structure, in less than two minutes.
The second: a public facing mobile friendly plugin which intuitively mimics the design of the chosen website; keeping ahead of competitors, whilst allowing prospective clients to request and accept quotes in real time at the click of a button.  Perfect for targeting an audience of on-the-go people who want good results fast!
Quotations are produced with the companies' terms and conditions and can also include referral partners and commission if desired, increasing revenue and ensuring busy conveyancers don't lose valuable time.
The two elements work solely or alongside one another, allowing the client to tailor the service to their needs with minimum disruption or training.
The Pali Smart Quote compliments existing strategies, making it another tool for providing excellent customer service.
How Does it work?
The program automatically detects crucial information such as tenure and unregistered properties, calculates stamp duty (even on second properties) and applies the appropriate Land Registry fees saving valuable administration time.
The Pali Smart Quote's in-house calculator doesn't require a high skill level to operate, in fact the user-friendly interface means highly detailed reports can be obtained by members of staff at any level, allowing staff to quote prospective clients face to face, over the phone and via e-mail.
The innovative Lead Generation aspect captures details even if the process is not completed.
The Pali Smart Quote comes with built in reporting, allowing you to keep track and measure results with ease.
What does it cost?
The Pali Smart Quote software is complimentary when all conveyancing searches are ordered through Pali. If you choose to not order your conveyancing searches from Pali, you will be charged a set up fee and monthly payments. The prices depend on the package you choose.
Combining cutting-edge tech with local knowledge and national presence – About Pali
Pali is a multi-award winning, national conveyancing search company that has been providing the legal profession with quality conveyancing searches since 1999.
Pali carries £5m PI cover plus the added assurance that each search provided by Pali comes with its own standalone Search Warranty.
All Local Authority Searches and (full) Drainage and Water Searches are produced in house- ensuring quick turnaround at competitive prices
Pali has won awards from separate, prestigious organisations for customer service, technology and searches.
For more information on the Pali Smart Quote, please contact Jo Milne – jo@paliltd.com / 0800 023 5030