Pali Teesside is proudly supporting The Big Teesside Giveaway!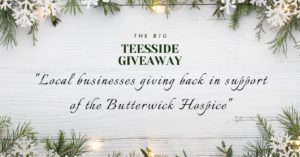 The Big Teesside Giveaway is a fundraiser for Butterwick Hospice Care with the giveaway being worth over £1700.
A selection of local businesses have collaborated to give members of the public a chance to win a huge Christmas present in support of the Butterwick Hospice.
Butterwick Hospice offers care to children and adults suffering life limiting illnesses. All services are provided free of charge. Butterwick Hospice Care incorporates Butterwick Hospice Stockton, Butterwick House and Butterwick Hospice Bishop Auckland.
The winner will be announced on The Big Teesside Giveaway's Facebook Page on 6th December at 10am.
To purchase a ticket for the giveaway please make a donation of £5 to the Just Giving Page.