Terrafirma have spent 5 years putting training and educational content at the heart of their growth strategy. However, previously they have been able to deliver their training in house or via their traditional webinars. Due to COVID changing the way we interact online, Terrafirma are changing their strategies to fit in with the new normal ways of working.
This September you will learn something new in Terrafirma's new education series: UK Ground Hazards and Property: The Risks You Need to Know.
This series will be based on the Zoom platform. A platform where people from around the world have chosen to connect throughout lockdown. Terrafirma have designed this series to be as flexible as possible around you and your new working environment. The series will have live 'coffee break' episodes. These will consist of sessions scheduled across 3 weeks in September, where you can ask the experts questions pertinent to your profession, interests or region and if you miss an episode you can register for a catch-up whenever it suits you! The series will also be available on-demand, or on Terrifirma's YouTube channel each week so you can stay updated!
Terrafirma's team of Geologists, mining engineers and soil scientists have been working really hard on distilling down each episode into just 20 minutes of digestible, jargon-free and engaging content, with a number of case studies that highlight the real risks to property and land across all four corners of the British isles.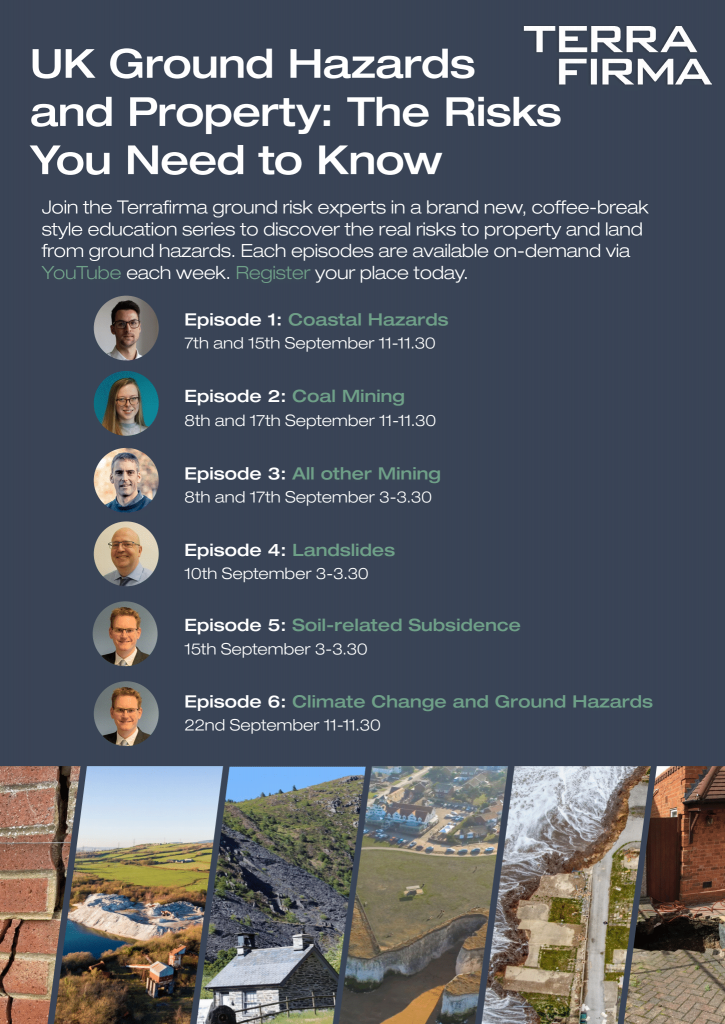 The Eventbrite registration links for each episode are in the links below:
Or see the full list of events here.
We hope you can join us on the educational series. Register you place today by clicking on the links above.