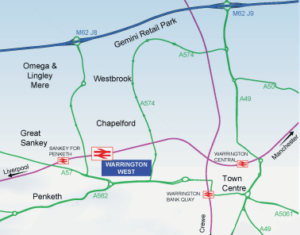 Planning chiefs at Warrington have given the go-ahead for the long-awaited new West Warrington railway station, at Chapelford. The station was originally approved in outline in 2002, with the scheme being heard at Planning Committee on the 19th July 2017 where the planning application was unanimously approved.
Chapelford Urban Village is now close to completion with land available, as a result of a legal agreement with David Wilson Homes, to the south adjacent to Skelton's Bridge to construct the new rail station and car park which will provide around 350 parking spaces. The new station would be made accessible on foot, by bicycle, bus and car.
Network Rail have confirmed that they will support the proposals for the station, which is estimated will cost around £9m to build with around £1m of funding already guaranteed from the Council's transport budgets and David Wilson Homes. The remaining funding is expected from a mixture of Government and private sector funding.
The station will be an entirely new facility on the southern edge of Chapelford with the aim of improving accessibility across the west and north of Warrington. It is estimated that the station will attract around 800,000 passengers by 2025.
The station is proposed to have the following facilities and features;
Station Building with sheltered ticket purchasing area and toilets.
Platforms accessible by stairs and lifts.
Parking for around 350 cars with an additional 18 disabled spaces.
Cycle shelters and lockers.
Three new bus stops outside the station building.
Two relocated bus stops on Sycamore Lane.
Taxi rank with drop off and pick-up facility.
It is currently expected that the new station will open mid 2019.
Originally posted by Caroline Hymers at Pali Warrington.  The original article can be found here.