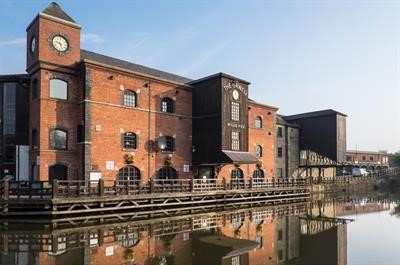 The transformation of three buildings in the historic Wigan Pier Quarter, is set to happen in the near future.  Wigan Council has launched a development contest with a six week invitation to tender for bids to develop the three buildings.
The three former industrial buildings up for development are The Warehouse a 23,200sq ft three-storey warehouse built in 1790, The Orwell, formerly Gibson's Warehouse, an 8,000sqft warehouse constructed in 1777 and The Education Centre, which was once used to support education opportunities, and has an area of 4,500sq ft.
There has already been significant interest in the buildings from developers, with a mix of ideas being but forward including new office space and leisure and social destinations.
The tender process will run for six weeks and is being overseen by Wigan Council in partnership with commercial agents Lamberts Smith Hampton and the Canal & River Trust.  At the end of the tender period all applications will be reviewed and a preferred partner or partners will be selected.
The Wigan Pier Quarter has recently seen the development of the Pier Conference Centre and Performance venue, and also approved planning permission for a social, arts and cafe venue.  To support these regeneration opportunities the council has invested in new car parking facilities, created a community garden, and hosted a major business event to showcase the Pier Quarter and its opportunities.
Wigan Pier was formally a coal loading jetty where wagons would unload their coal on to canal barges, and this year marks the 80th anniversary of the publication of George Orwell's 'The Road to Wigan Pier' which helped make the pier famous!
Further information on the tender process can be obtained by contacting Lambert Smith Hampton on 0161 228 6411. The closing date for bids is Friday 23rd June 2017.
You can learn more about the history of Wigan Pier by visiting http://www.whereiswigan.co.uk/pier/
Caroline Hymers
Pali Warrington Ltd
info@paliwarrington.co.uk