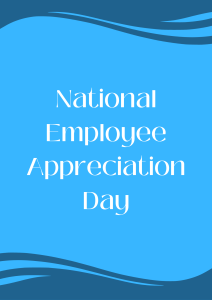 National Employee Appreciation Day falls on the first Friday in March every year and this year it will be on the 3rd March. It is a day to show employees how much you appreciate their hard work. Employers in organisations and businesses all over the country plan celebrations to recognise their employees effort and achievements. Appreciation and acknowledgement are known as some of the most important inspirational factors in the workplace. There is a range of ways in which employers can show their gratitude for their employee's contributions and efforts towards the company. A big part of PALI's business structure is to include Employee Appreciation Day as this keeps morale high and demonstrates that PALI values their employees.
While all employees have different personalities, a lot will be goal driven. Recognition is likely to motivate a person to reach their potential and in turn will benefit the company overall. There are many different things that can be done to show employees that you appreciate them, for example you could have a team effort celebration. It has been proven that showing recognition and appreciation for your employee's hard work and dedication will result in a positive response from your staff.
At PALI our hardworking members of staff are second to none, don't believe us? Check out our testimonials. From customer service to turnaround times, here at PALI we frequently receive fantastic feedback from clients. PALI has also received awards for innovation thanks to our IT team and employees that are involved in developing our systems. We think it is important to appreciate our hardworking employees every day. What are you doing to celebrate National Employee Appreciation Day?
Thank you again to our amazing team!